/!\ More info on the upsb thread >here< /!\
Hey guys, Vôre-Tèx here 🙂
Note : I don't hate Oleg personally. I just mention some true facts about the current situation. Please consider this.
Please, don't harass Oleg about this. It's useless.
It's been a while I wanted to write something about psershop – aka Oleg, the owner.  I am pretty sure you already know his website : he proposes many differents products for, sometimes, cheap prices. This article is about his webstore copyright (I'll use CR from now) issues. I have tried yesterday (07/12/17) to contact him. I asked him some questions about those CR issues and what he is thinking about it. He only replied me by « tldr », implies that he doesn't give a fuck about that. Alright.
Before you start, I want to say one thing : I do not consider Oleg as one of my competitor through penmods selling. Products he is selling are cheap and sometimes bad quality because using fake parts, while I try as far as I can to use legit parts and make the perfect mod for everyone with a maximum durability. I do not belittle his products. Selling fake, cheap and bad products is a choice (his choice). Spending many hours, days or weeks about conceptualization, thinking and making with the best products and a higher price is a choice (my choice). My customers do not have the same budget as his customers. If you can not afford to spend a certain amount of money for my creations, it's fine, I guess you can buy at another place. If you consider his products as good, ok. I am not here to judge you, it's your own choices. I just give you my opinion as a profesionnal penmodder.
If you are buying cheap lamp from a store, you consider that the quality could not be good and maybe you will have to buy another in fews months. Of course on the reverse way, it's not because a product is expensive that it's a good product. A Menowa reimei is pretty expensive but a cheaper mod can be spun better.
At first, you have to know what kind of selling he is doing :  dropshipping. I will quote wikipedia about the definition.
« Drop shipping is a supply chain management method in which the retailer does not keep goods in stock but instead transfers customer orders and shipment details to either the manufacturer, another retailer, or a wholesaler, who then ships the goods directly to the customer. As in retail businesses, the majority of retailers make their profit on the difference between the wholesale and retail price, but some retailers earn an agreed percentage of the sales in commission, paid by the wholesaler to the retailer. » Source
Now, I am sure you are wondering where he can get all this stuff, since he is doing dropshipping, right ? Oleg buys from Taobao. The biggest Chinese place on the Internet where you can get the things you want for cheap prices. You can find legit products as counterfeit.
This is the website, in Chinese of course : https://world.taobao.com/
In this article, I want to talk about three things :
1- : The fact that he does not warn his clients about the quality and the origin of the products he is selling (which are legit products, which are not ?) ;
2- : The fact that majority (maybe all?) of the pictures of his webstore are not from him but from Taobao sellers and even penmodders.
3- : An alternative about psershop : get more choices of products even cheaper. (because he is selling fake parts at price of real parts)
1- As consumers, we have the right to make the choice to buy real objects or not. Here, we don't have the choice because Oleg does not warm his customers about that. Since ALL of his products are from Taobao and maybe 75% of them are counterfeit. Even if some of others webstores do that, the most worrisome is from psershop.
In my opinion, as a seller, you have to respect your customers about this. If you don't give a fuck about it, either you don't have the choice to do it because you need money for your survival or you are considered as a fucking pretentious person who sell shitty products in order to buy Apple products of your own pleasure.
Below is a list of the parts I am sure they are counterfeit. I only help you to know which are counterfeit or not. If you want to buy from there, it's not my problem. Do what you want in relation of your budget and of your consciousness as a consumer.
– CT caps
– 094 caps
– Comssa caps 1
– Comssa caps 2
– Big emboss caps
– Small emboss caps
– Faber Castel
– HGG
– HGR
– NeedlePoint
– Drgrip
– G-tec
– G3
– Nextage
– A-gel
– Signo
– Airfit
– HGR
– Emboss
– CYL connector
– Anyball
– HGG
– Hyperjell
– Airblanc
– drgrip
– Sailor
– Supergrip
– Tornado
– Airfit 
– CT
– CT DC
– CT DC 2
– Superpirat
– comssa
– ST
– ST 2
– Emboss
– m&m
– Penzgear
– Metal rings
– DG
– Airfit
– Tect
I can not be sure about mods. So I can not say anything about it. But if Oleg does not propose you to make your mods from your own choice colours, your mods are made by Chinese penspinners, maybe from the chinese board : PenSpinnerHome.
2- If you have checked some of these weblinks above, you should have noticed that some of the background are white and others have differents backgrounds. I don't want to waste my time about this, but majority (all of them ?) of the pictures he is using are not from him, but from penmodders or Taobao sellers (as I said previously). Here are some example.
First  :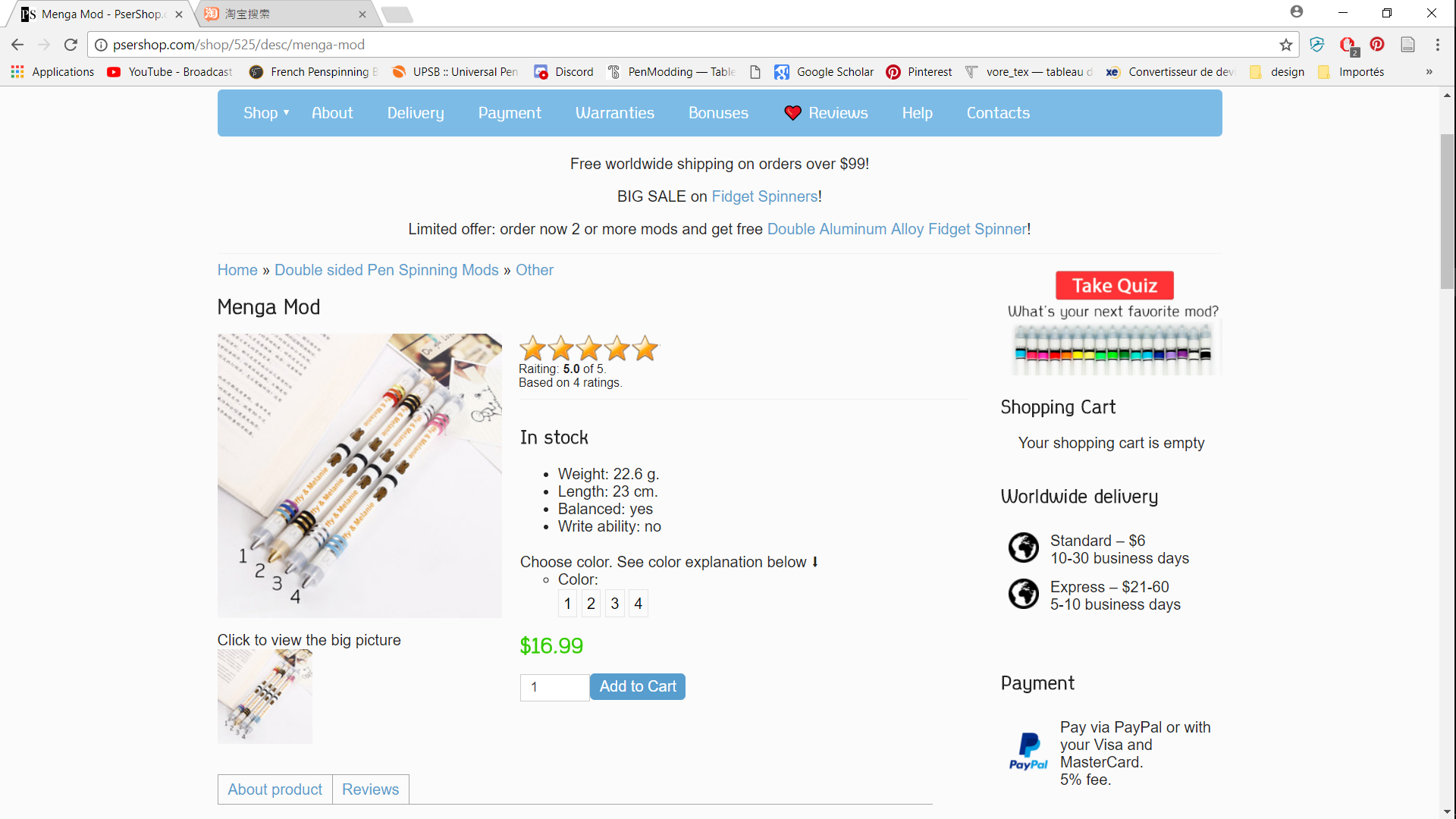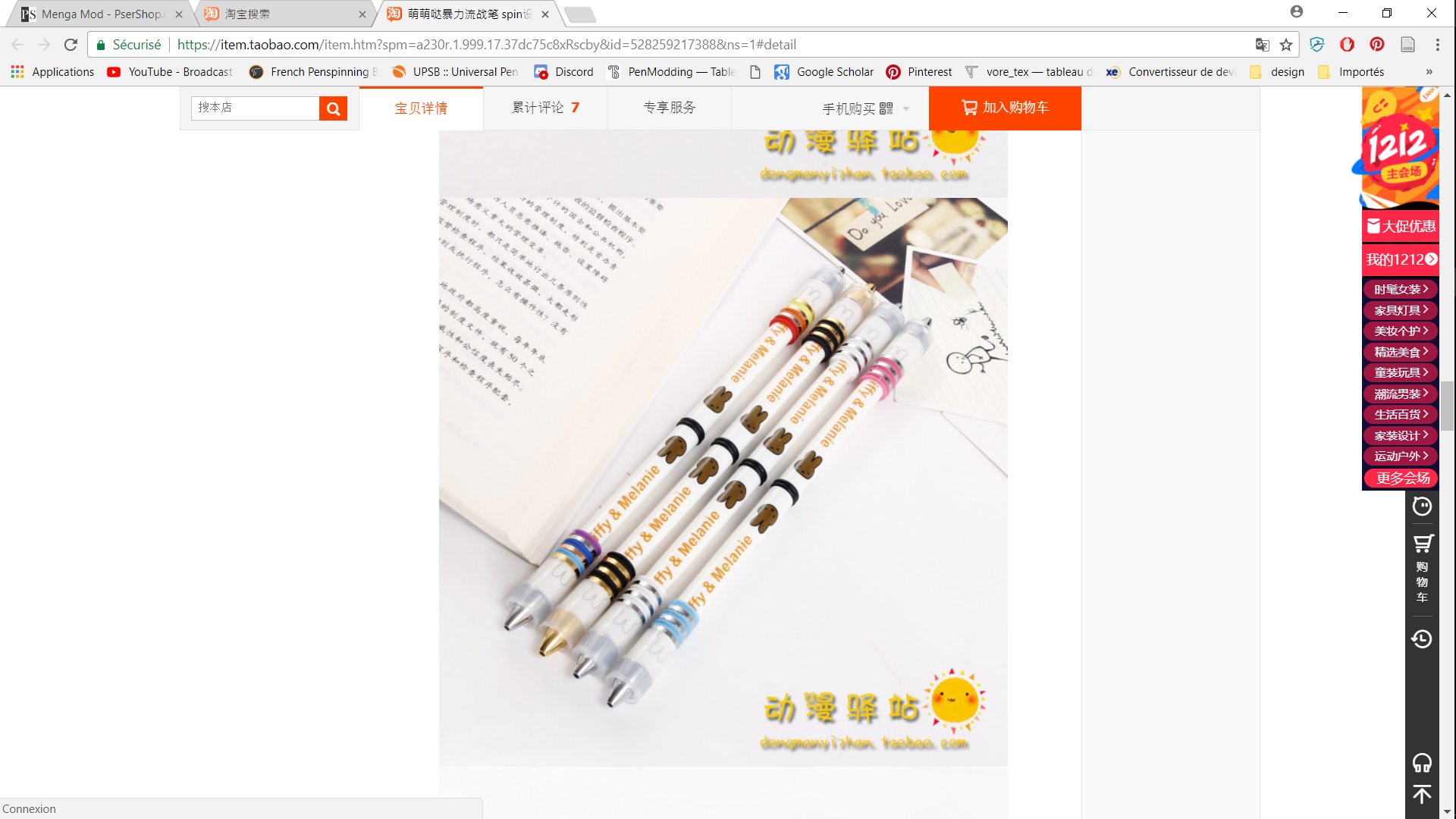 The same picture, Oleg removed the logo of the seller.
Second :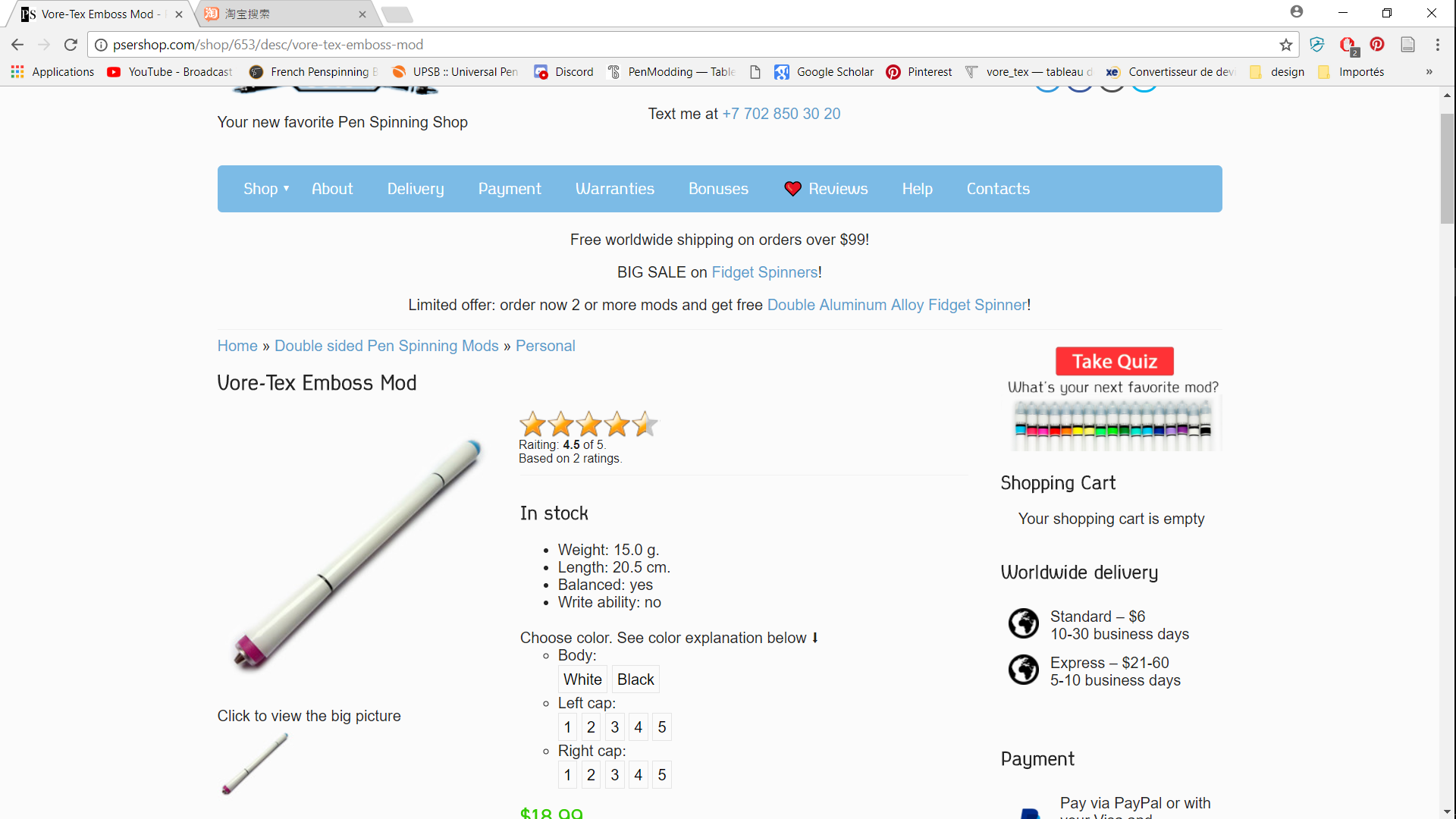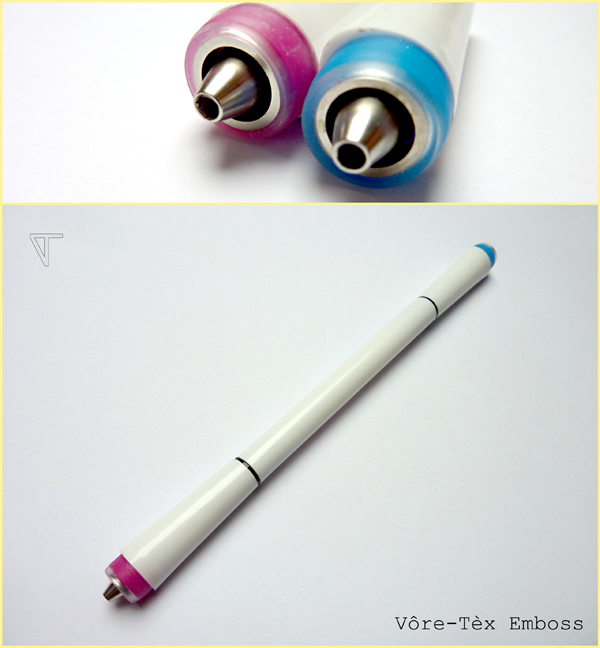 The same picture. Oleg cropped the shape of the mod and I can assure you he never tried to contact me about using it.
Third :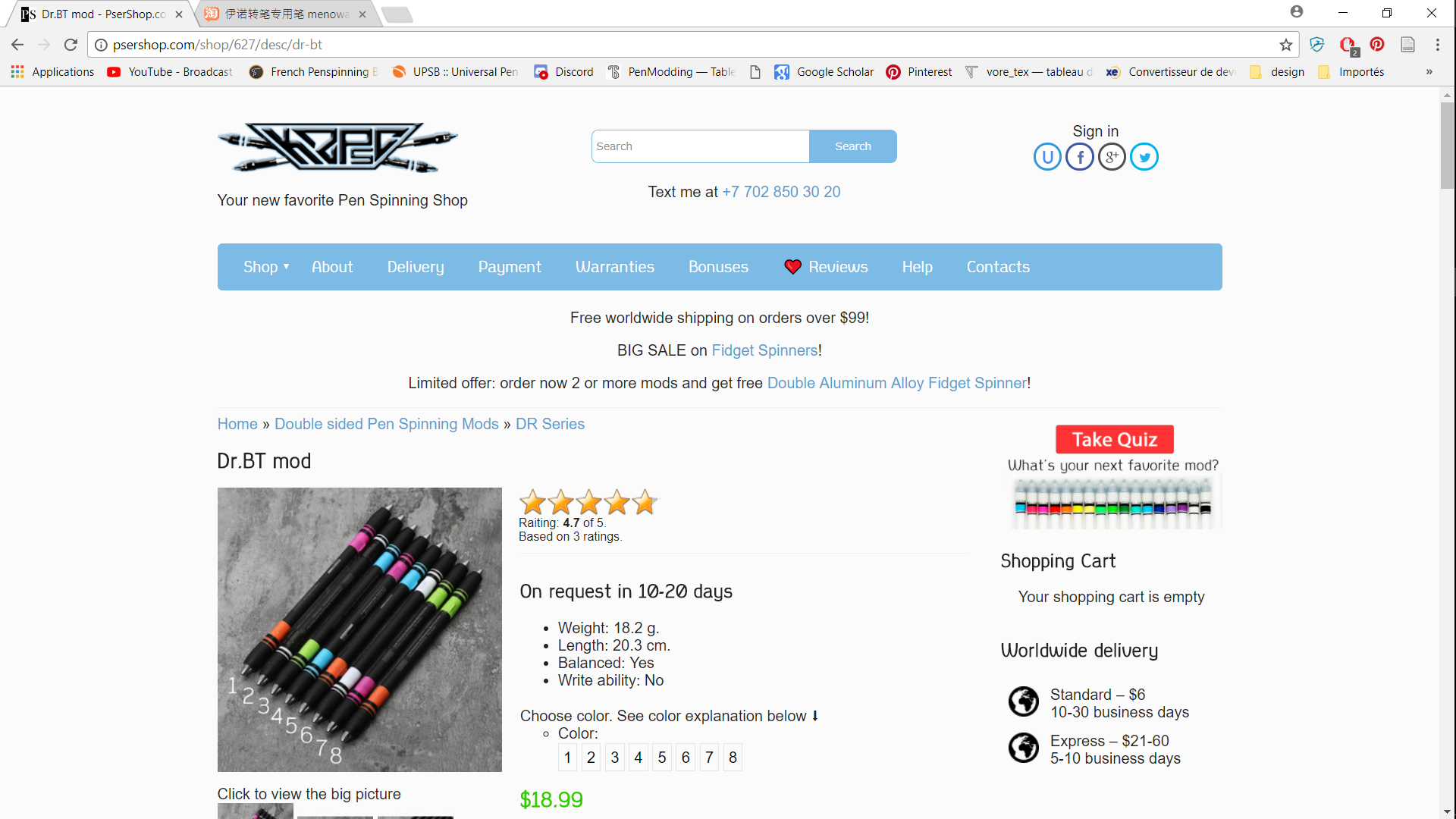 From Eno (best taobao seller for penspinning counterfeit) >link<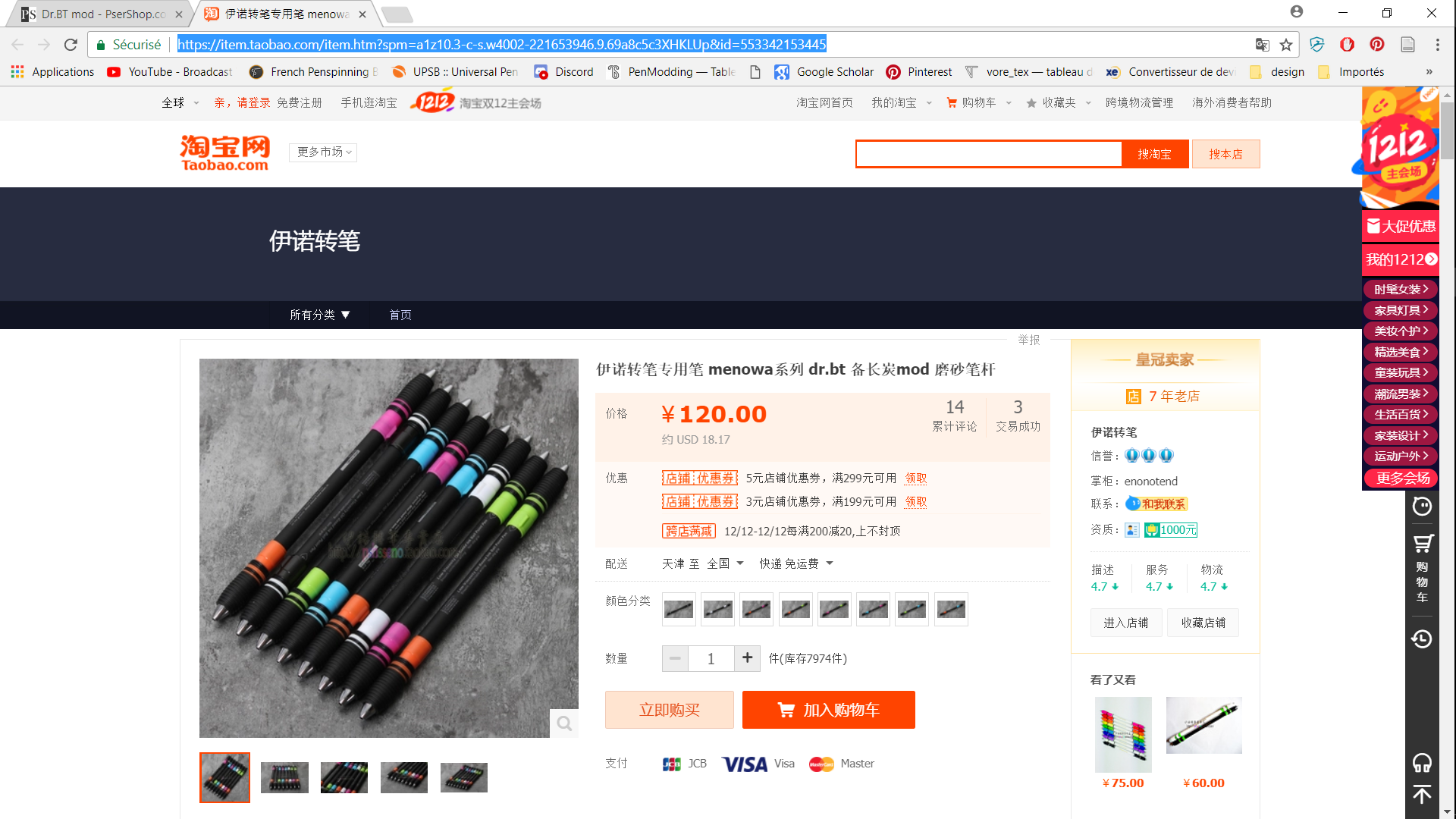 From me on youtube for the name explanation >link<
Same shit, no credit. He does not give any credit for the picture. Neither for the name explanation which is from me basically.
Fourth :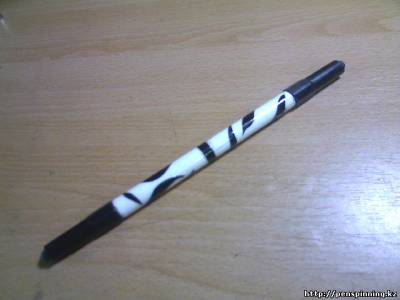 I can spend my whole life to show you all the copyright issues on both of his websites. If you want to check by yourself, you can take a look.
3- Hey VT, do you have solution about that ?
Yes I have. If you want to buy cheap penspinning products but not from Oleg, I advise you to use this website :
This website also do dropshipping, but with something like 10% of fees of the total amount of your purchase. If you buy from Oleg shop, you can't buy everything on Taobao and plus, his prices will be (sometimes) very expensive. Using Taobao Focus allows you to purchase everywhere on Taobao and for cheaper prices.
Here is a tutorial on how to order from Taobao Focus : >here<
Don't hesitate to share this article around you. Oleg should stop.
Thanks for reading.
VT